Overview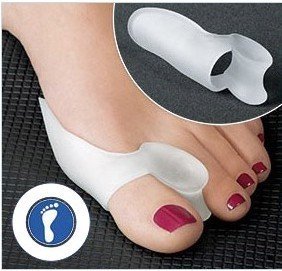 A bunion (hallux abducto valgus) is a bony lump or enlargement that forms in the joint (metatarsal phalangeal joint) at the base of the big toe. The big toe points toward the other toes (lateral deviation) as the bunion progresses. The joint and surrounding tissue becomes inflamed and painful. Occasionally bunions can also form at the joint at the base of the smallest (fifth) toe. They are called a tailor's bunion or bunionette. Bunions can be accompanied by bursitis (inflammation of a small fluid-filled sac adjacent to the joint). With an advanced bunion the big toe may be so deformed that it has to lie over or under the second toe. In this situation it hurts to walk or wear any kind of shoe. About one in three people in most Western countries will get a bunion. They are about ten times more common in women than in men. Older people are more often affected than younger people, although bunions do occur in children with misaligned feet. Bunions should not be confused with gout or arthritis, which can also cause inflammation, deformity and pain around the toes and feet.

Causes
The commonest cause of bunions is prolonged wearing of poorly designed shoes such as the narrow high heels that women wear. This is one of the reasons why bunions are much more common in women than in men. There is also a hereditary component to bunions in that many times we will see a grandmother, mother and daughter all with various stages of bunions. 38% of women in the United States wear shoes that are too small and 55% of women have some degree of bunion formation. Bunions are 9 times more common in women than they are in men.

Symptoms
Symptoms include redness, swelling and pain which may be present along the inside margin of the foot. The patients feet may become too wide to fit into their normal size shoes and moderate to severe discomfort may occur when the patient is wearing tight shoes. A "hammer toe" may occur at the 2nd toe. This is when the toe contracts and presses on the shoe. Subsequently, this may cause a corn on top of the 2nd toe.

Diagnosis
When an x-ray of a bunion is taken, there is usually angulation between the first metatarsal bone and the bones of the big toe. There may also be angulation between the first and second metatarsal bones. These angular irregularities are the essence of most bunions. In general, surgery for bunions aims to correct such angular deformities.

Non Surgical Treatment
Your podiatrist can recommend exercises, orthoses (special devices inserted into shoes), shoe alterations or night splints (which hold toes straight over night) which may slow the progression of bunions in children. According to experts, ?conservative? measures such as these may help relieve symptoms, though there is no evidence they can correct the underlying deformity. Orthoses are designed to prevent the problem getting worse by decreasing any biomechanical causes of bunions. In other words, if the biomechanical theory is correct (i.e. if your bunions are caused by the way you walk), orthoses may help you walk in a way that doesn?t exacerbate the problem. But it won?t change the already established shape of your foot. For that, you need surgery.


Surgical Treatment
Depending on the size of the enlargement, misalignment of the toe, and pain experienced, conservative treatments may not be adequate to prevent progressive damage from bunions. In these cases, bunion surgery, known as a bunionectomy, may be advised to remove the bunion and realign the toe.

Prevention
Choosing footwear that fits correctly, especially low heeled shoes with plenty of space for the toes, is one of the main ways that bunions can be prevented. Always stand when trying on shoes to ensure they still fit comfortably when the foot expands under your body weight. Try shoes on both feet, and select the size appropriate for your larger foot. Use an extra insole if one shoe is looser than the other. Do not cramp the larger foot. People prone to flat-footedness should consider the use of arch supports, orthotic shoe inserts or special orthotic shoes to prevent or delay the development of bunions.