Overview
Achilles Tendonitis is an inflammation of the Achilles Tendon. This tendon attaches the muscles in the calf of the leg to the back of our heels. The Achilles Tendon is a long and thick tendon, which moves our foot down, so that the toes point to the ground (plantar flexion). This tendon can become inflamed due to the following causes. Over utilizing it, such as too much running, especially up or down hill. Trauma, such as a kick to the tendon. Shoe or boot pressure, especially at its attachment to the heel, or just above it. There are over 250,000 injuries to the Achilles Tendon annually. In fact, more Than 10% of all running injuries are to the Achilles tendon. Tendonitis may be classified as either acute or chronic. Acute Achilles Tendonitis comes on quickly, usually after a specific activity or event. It is characterized by an overstretching or tearing of some of the small fibers of the tendon, and causes pain or tenderness when walking or running. It can occur at the insertion (near the attachment to the heel bone, or further up the leg, about 4 or 5 inches above the heel. Acute tendonitis can also follow a specific injury, such as a kick to the tendon while playing soccer. Chronic Achilles Tendonitis develops gradually over time. Many times, you can feel an obvious thickening of the tendon that may be tender when squeezed, due to long standing scarring of the tendon. Pain is also present when walking or during other forms of activity, and feels better at rest.
Causes
Achilles tendonitis is an overuse injury. Too much too soon is the common cause of overuse injuries, however other factors can contribute to developing the condition. An increase in activity, either distance, speed or a sudden change to running up hills. As a rule of thumb distance runners should increase their mileage by no more than 10% per week. A change of footwear or training surface for example suddenly running on soft sand can cause the heel to drop lower than normal making the tendon stretch further than it is used to. Weak calf muscles can tighten or go into partial spasm which again increases the strain on the achilles tendon by shortening the muscle. Running up hills - the achilles tendon has to stretch more than normal on every stride. This is fine for a while but will mean the tendon will fatigue sooner than normal. Overpronation or feet which roll in when running can place an increased strain on the achilles tendon. As the foot rolls in (flattens) the lower leg also rotates inwards which places twisting stresses on the tendon. Wearing high heels constantly shortens the tendon and calf muscles. When exercising in flat running shoes, the tendon is stretched beyond its normal range which places an abnormal strain on the tendon.
Symptoms
Common symptoms of Achilles tendinitis include weakness in the leg, slight pain above the heel in the lower leg after activity, feeling of stiffness in the leg that usually appears in the morning and lessens throughout the day, bad pain the day after exercising, pain as you climb stairs or go uphill, swelling in the area of the Achilles tendon, creaking or cracking noise when you press on the Achilles tendon.
Diagnosis
When diagnosing Achilles tendinitis, a doctor will ask the patient a few questions about their symptoms and then perform a physical examination. To perform a physical exam on the Achilles tendon, the doctor will lightly touch around the back of the ankle and tendon to locate the source of the pain or inflammation. They will also test the foot and ankle to see if their range of motion and flexibility has been impaired. The doctor might also order an imaging test to be done on the tendon. This will aid in the elimination of other possible causes of pain and swelling, and may help the doctor assess the level of damage (if any) that has been done to the tendon. Types of imaging tests that could be used for diagnosing Achilles tendinitis are MRI (Magnetic resonance imaging), X-ray, Ultrasound.
Nonsurgical Treatment
There are a variety of treatments for Achilles tendonitis. These range from rest and aspirin to steroid injections and surgery. Your doctor might suggest, reducing your physical activity, stretching and strengthening the calf muscles, switching to a different, less strenuous sport, icing the area after exercise or when in pain, raising your foot to decrease swelling, wearing a brace or compressive elastic bandage to prevent heel movement, undergoing physical therapy, taking anti-inflammatory medication (e.g., aspirin or ibuprofen) for a limited time, getting steroid injections, Sometimes more conservative treatments are not effective. In these cases, surgery may be necessary to repair the Achilles tendon. If the condition intensifies and is left untreated, there?s a greater risk of an Achilles rupture. This can cause sharp pain in the heel area.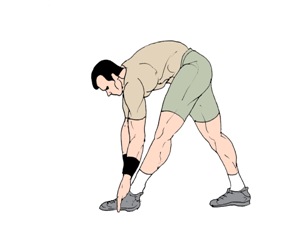 Surgical Treatment
Percutaneous Achilles Tendon Surgery. During this procedure the surgeon will make 3 to 4 incisions (approx. 2.5 cm long) on both sides of the Achilles tendon. Small forceps are used to free the tendon sheath (the soft tissue casing around your Achilles tendon) to make room for the surgeon to stitch/suture any tears. Skilled surgeons may perform a percutaneous achilles tendon surgery with ultrasound imaging techniques to allow for blink suturing with stab incisions made by a surgical suture needle. This procedure can be done in 3 different ways depending on the preference and experience of your surgeon. Instead of making several 2.5 cm incisions for this procedure, some surgeons will use guided imaging with an ultrasound to see the Achilles tendon tissue without having to open up your ankle. For this technique, they will use a surgical needle to repeatedly stab your Achilles tendon. These "stab incisions" will allow the surgeon to "blindly" suture your tendon without seeing the actual tissue. As another option - some surgeons will only make 1 to 3 incisions for smaller surgical implements to repair your tendon while relying on imaging ultrasound to see your damaged tissue. During either procedure the use of ultrasound imaging or endoscopic techniques requires a very skilled surgeon.
Prevention
Stretching of the gastrocnemius (keep knee straight) and soleus (keep knee bent) muscles. Hold each stretch for 30 seconds, relax slowly. Repeat stretches 2 - 3 times per day. Remember to stretch well before running strengthening of foot and calf muscles (eg, heel raises) correct shoes, specifically motion-control shoes and orthotics to correct overpronation. Gradual progression of training programme. Avoid excessive hill training. Incorporate rest into training programme.